{ ++ } Miz B over at
Should Be Reading
hosts this weekly meme, where us book lovers get a chance to spotlight our currently-reading and basically...do a little teasing. : ) The rules are simple:
Grab your current read.
Open to a random page. (Full disclosure: I actually go hunting for a good teaser. heehee.)
Share two (2) "teaser" sentences from somewhere on that page. (Um. Sometimes I post more than 2 sentences. hee.)
BE CAREFUL NOT TO INCLUDE SPOILERS! (make sure that what you share doesn't give too much away! You don't want to ruin the book for others!)
Share the title & author, too, so that other participants can add the book to their to-reads if they like your teaser.
We reached to pick up the vase at the same time, and our fingertips touched. A current of energy pulsed through his hand to mine. My skin felt too small, stretched too tight, as if searching out more exposure to his. I heard several pings, and the table went dark.

Something was very, very off.

I slowly raised my eyes to meet Michael's. The muscles in his face tensed; his expression was completely unreadable. Confused, maybe scared, I pulled away. I could still feel the way electricity had flowed through his fingers to mine, all the way to the roots of my hair.

The remaining lights returned to normal.
Hourglass by Myra McEntire
Published: 06.14.2011 (Egmont USA)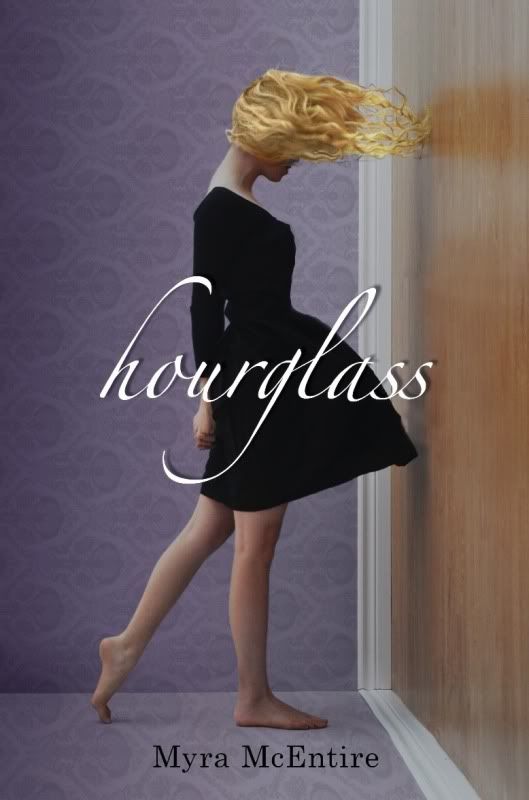 One hour to rewrite the past . . .

For seventeen-year-old Emerson Cole, life is about seeing what isn't there: swooning Southern Belles; soldiers long forgotten; a haunting jazz trio that vanishes in an instant. Plagued by phantoms since her parents' death, she just wants the apparitions to stop so she can be normal. She's tried everything, but the visions keep coming back.
So when her well-meaning brother brings in a consultant from a secretive organization called the Hourglass, Emerson's willing to try one last cure. But meeting Michael Weaver may not only change her future, it may change her past.
Who is this dark, mysterious, sympathetic guy, barely older than Emerson herself, who seems to believe every crazy word she says? Why does an electric charge seem to run through the room whenever he's around? And why is he so insistent that he needs her help to prevent a death that never should have happened?