{ ++ } Miz B over at
Should Be Reading
hosts this weekly meme, where us book lovers get a chance to spotlight our currently-reading and basically...do a little teasing. : ) The rules are simple:
Grab your current read.
Open to a random page. (Full disclosure: I actually go hunting for a good teaser. heehee.)
Share two (2) "teaser" sentences from somewhere on that page. (Um. Sometimes I post more than 2 sentences. hee.)
BE CAREFUL NOT TO INCLUDE SPOILERS! (make sure that what you share doesn't give too much away! You don't want to ruin the book for others!)
Share the title & author, too, so that other participants can add the book to their to-reads if they like your teaser.
I can't answer. I want to tell him everything. I'm thinking that maybe I should try. "It's not what you think," I start. "When I saw Monroe, he - "


And it's like I'm punched in the gut. A crushing pain fills my belly, and I double over, falling to my knees on the floor. Harlin yells my name but I can't answer. The room is spinning. I feel like I'm dying.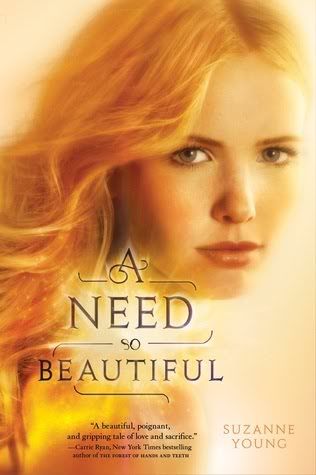 We all want to be remembered. Charlotte's destiny is to be Forgotten...

Charlotte's best friend thinks Charlotte might be psychic. Her boyfriend thinks she's cheating on him. But Charlotte knows what's really wrong: She is one of the Forgotten, a kind of angel on earth, who feels the Need—a powerful, uncontrollable draw to help someone, usually a stranger.

But Charlotte never wanted this responsibility. What she wants is to help her best friend, whose life is spiraling out of control. She wants to lie in her boyfriend's arms forever. But as the Need grows stronger, it begins to take a dangerous toll on Charlotte. And who she was, is, and will become--her mark on this earth, her very existence--is in jeopardy of disappearing completely.

Charlotte will be forced to choose: Should she embrace her fate as a Forgotten, a fate that promises to rip her from the lives of those she loves forever? Or is she willing to fight against her destiny--no matter how dark the consequences.
A Need So Beautiful by Suzanne Young