{ ++ } Miz B over at
Should Be Reading
hosts this weekly meme, where us book lovers get a chance to spotlight our currently-reading and basically...do a little teasing. : ) The rules are simple:
Grab your current read.
Open to a random page. (Full disclosure: I actually go hunting for a good teaser. heehee.)
Share two (2) "teaser" sentences from somewhere on that page. (Um. Sometimes I post more than 2 sentences. hee.)
BE CAREFUL NOT TO INCLUDE SPOILERS! (make sure that what you share doesn't give too much away! You don't want to ruin the book for others!)
Share the title & author, too, so that other participants can add the book to their to-reads if they like your teaser.
Connor strode confidently into the light-filled image. His body blurred for a moment, and then there he was, standing among the crates. He paused, stretching his arms and yawning, and then suddenly dropped his pants and mooned us.

"Oh God, Connor," Adne groaned. "Get through there and bite him, Shay."

"I'm not coming, remember?" Shay objected, but he laughed. "Even if I was, I wouldn't bite his ass."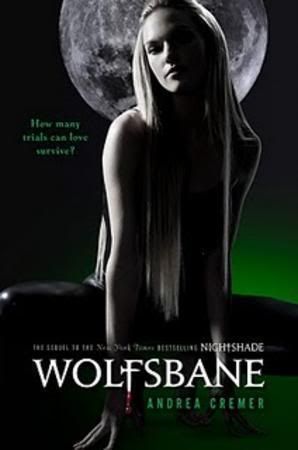 When Calla Tor wakes up in the lair of the Searchers, her sworn enemies, she's certain her days are numbered. But then the Searchers make her an offer—one that gives her the chance to destroy her former masters and save the pack—and the man—she left behind. Is Ren worth the price of her freedom? And will Shay stand by her side no matter what? Now in control of her own destiny, Calla must decide which battles are worth fighting and how many trials true love can endure and still survive.
Wolfsbane by Andrea Cremer