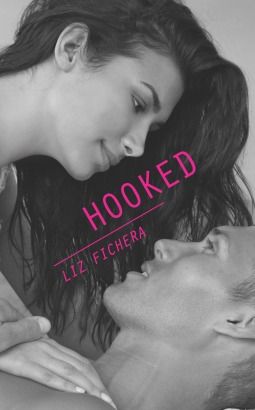 Hooked by Liz Fichera
Publication:

January 31, 2013 (

Harlequin Teen)



Source: E-galley from NetGalley
Rating: Beam-worthy
When Native American Fredricka 'Fred' Oday is invited to become the only girl on the school's golf team, she can't say no. This is an opportunity to shine, win a scholarship and go to university, something no one in her family has done.

But Fred's presence on the team isn't exactly welcome — especially not to rich golden boy Ryan Berenger, whose best friend was kicked off the team to make a spot for Fred.

But there's no denying that things are happening between the girl with the killer swing and the boy with the killer smile...

GET HOOKED ON A GIRL NAMED FRED.
Her breath warmed my neck. Slowly, I lowered my chin so that it brushed the top of her head. My eyes closed as I listened to our breathing, her heartbeat, and all the corner things that scrolled through my head. I wanted to say something lame, like how her hair smelled as sweet as the desert, because that was how she made me feel - alive and special.
After reading several contemporary books last year that featured main characters as athletes, I wanted to try
Hooked.
I'm glad I did, because like predecessors
Catching Jordan
,
Stealing Parker,
and others,
Hooked
utilizes a bit of a twist on familiar plots.
In Liz Fichera's debut novel, the main character Fred faces several challenges, but has an indomitable spirit that was beautiful to read about. Although the other main character, Ryan, wore on my nerves, I never found Fred to be anything but inspiring, and ended up enjoying Hooked a great deal.
I really enjoyed
the

authenticity

Liz Fichera gave to her characters. They all felt very real; however in this case, I didn't enjoy the dual point of view as much as I wished. Despite having moments where I softened toward him, for the majority of Hooked, I didn't care for Ryan, or his point of view. I think the story could have been told better without his, because he let me down

too

many times. He did come through eventually, but

by then, I

didn't believe in him and Fred as a couple because of his antics and immaturity when it came to her. He had opportunities to step up, but chose not to, and my enjoyment of Hooked suffered. Plus there was just a lot of meaningles

s drama drummed up between them to keep the story going.
I did come to admire Liz Ficher
a's story-telling, and the pacing, which was well done. I applaud the fact that Fred isn't the typical Caucasion narrator, and I enjoyed the tribal information in the story.
I liked that she
took risks as a story-teller,
and delved into Fred's less than desirable home life with her alcoholic mother.
However, I felt like the actual treatment of that storyline was a bit callous and generalized. Fred's father and brother were great additions to this story as supportive minor characters. I felt like as

Hooked

neared

a climax though, everything was wrapped up really neatly and quickly.
Sometimes it's better for an author to l
eave a bit to the reader's imagination, but that wasn't so here.
Overall, I liked Hooked - the premise, and Fred. I'm glad I took a chance on Liz Fichera's story, because there were some touching moments

, but I'd have to say that I've seen this type of premise done better by other authors.
Other books by this author:
Played
(Hooked #2 - 2014 Harlequin Teen)
You're sure to love:
Catching Jordan
by Miranda Kenneally
About Liz
I'm an American author living in the American Southwest by way of Chicago. Born and raised in Park Ridge, Illinois, I moved to Phoenix, Arizona, after college, never expecting to live more than one year among cactus and people who'd never seen snow. I was wrong. It certainly didn't hurt that I met my future husband in Phoenix too.
When I'm not busy writing my next novel, I like to travel, visit museums, support local theater productions, hike, and pretend that I'm training for a triathlon. I post a lot of photos from my desert and mountain hikes on my
Facebook
and
Twitter
pages. In no particular order, I've been chased by javalinas, rattlesnakes, coyotes, and even one curious black bear. Would love to connect with you there too!