Pivot
Point by Kasie West
Publication:

February

12, 2013 (HarperTeen

)
Source: E-Galley from the publisher
Rating: Swoon-wo

rthy
Knowing the outcome doesn't always make a choice easier . . .

Addison Coleman's life is one big "What if?" As a Searcher, whenever Addie is faced with a choice, she can look into the future and see both outcomes. It's the ultimate insurance plan against disaster. Or so she thought. When Addie's parents ambush her with the news of their divorce, she has to pick who she wants to live with—her father, who is leaving the paranormal compound to live among the "Norms," or her mother, who is staying in the life Addie has always known. Addie loves her life just as it is, so her answer should be easy. One Search six weeks into the future proves it's not.

In one potential future, Addie is adjusting to life outside the Compound as the new girl in a Norm high school where she meets Trevor, a cute, sensitive artist who understands her. In the other path, Addie is being pursued by the hottest guy in school—but she never wanted to be a quarterback's girlfriend. When Addie's father is asked to consult on a murder in the Compound, she's unwittingly drawn into a dangerous game that threatens everything she holds dear. With love and loss in both lives, it all comes down to which reality she's willing to live through . . . and who she can't live without.
His deep, even breaths and the steady beat of his heart lull me. My breath has warmed the little cocoon I've created against him. He smells spicy, like cologne and salt. The skin on his neck is soft on my nose and I push it further into him until my lips rest against him. My finger traces back and forth over his collarbone and my mouth brushes along his neck until it finds the skin right behind his earlobe, which is even softer.
Let's be honest: I add a LOT of books to my GoodReads to-be-read, and I'm usually excited when I add them. But when I saw the stunning cover for Pivot Point, then read the synopsis, something told me this book would be different - special. And having read it, cried, flailed, and swooned over Kasie West's debut novel, I can happily say I was right. Pivot Point brought to life so many vibrant characters, and Kasie's book left me with a heart that was half full, and half empty, as I realized how long I would need to wait for the sequel.
There are reviews I write where I can be impartial, and then there are reviews where I just want to hug a copy of the book I'm reviewing; Pivot Point made me want to

do the latter.
I clicked with Addie right away. I don't talk about it much, but my parents briefly

separated

when I was 15, and I wasn't given a choice where I wanted to go during that six months. They reconciled, but I remember being so anxious and sad, just like Addie. As soon as she decided to use her talent to Search her possible futures, I tensed up.

And here's when I realized Kasie West was on to something: I, quite literally, stayed tense through the ENTIRE NOVEL. That NEVER EVER happens. I was THAT caught up in Addie's story. And let me tell you, folks, Addie is an amazing lead character: smart, strong, REAL.
The characters are what make Pivot Point so fantastic. The premise by itself is pretty spectacular, and I enjoyed learning about the various citizens inside the Compound: Searchers, Discerners, Telekentics, and more. Kasie West's world-building was

phenomenal

. I never doubted it, and I felt like I was really there, both inside the Compound, and in the juxtaposition of the "Normal" world. But all these lives revolving around incredible mental abilities wouldn't have been anything if not for the characters. Addie, Laila, Trevor, and others began to feel like people I knew, not just chara

cters.
P
ivot Point is unique for so many reasons; despite our glimpses of Addie's two VERY different futures, the pacing was so smooth, never jerky. And although we see Addie with two absolutely oil-and-water love interests, because of the circumstances, there isn't a love triangle. Both Duke and Trevor add a lot to the story, but I knew I had chosen my side when I found myself looking forward to one character's appearances over the other. I don't want to give too much away, but I want to tell y'all: the romance is high-level SWOON-WORTHY. And the descriptions, and little moments between Addie and my favorite guy? I felt like - I - was experiencing my fir

st love all over again.
Pivot Point is a thrilling journey full of mystery, and moments that left me almost breathless. I laughed, I cried. I anticipated, and I feared for the characters. When it was over, I sat there, still tense, and crying. I didn't want Pivot Point to end, and now that it has, I'm going to have to find some way of coping until I can beg, borrow, or steal a copy of the sequel.
Other books by this author:
Untitled
(Pivot Point #2 - 2014
The Distance Between Us
(2013 - HarperTeen)
You're sure to fall for:
Dualed
by Elsie Chapman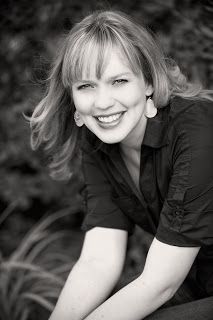 I graduated from Fresno State University with a BA degree that has nothing to do with writing. I earned my masters in Junior Mint eating (which is awarded after eating your millionth King Size box....I'm now working on my PhD). I love sappy alternative rock ballads and reading way past my bedtime.
Shop for Pivot Point at: Barnes & Noble | The Book Depository