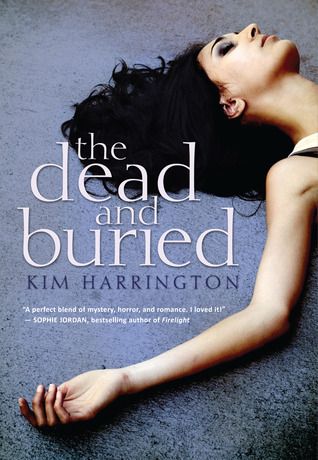 The Dead and Buried by Kim Harrington
Publication: January 1, 2013 (Scholastic Point)
Source: ARC from the publisher
Rating: Beam-worthy
A haunted house, a buried mystery, and a very angry ghost make this one unforgettable thriller.

Jade loves the house she's just moved into with her family. She doesn't even mind being the new girl at the high school: It's a fresh start, and there's that one guy with the dreamy blue eyes. . . . But then things begin happening. Strange, otherworldly things. Jade's little brother claims to see a glimmering girl in his room. Jade's jewelry gets moved around, as if by an invisible hand. Kids at school whisper behind her back like they know something she doesn't.

Soon, Jade must face an impossible fact: that her perfect house is haunted. Haunted by a ghost who's seeking not just vengeance, but the truth. The ghost of a girl who ruled Jade's school — until her untimely death last year. It's up to Jade to put the pieces together before her own life is at stake. As Jade investigates the mystery, she discovers that her new friends in town have more than a few deep, dark secrets. But is one of them a murderer?
Having never read anything by Kim Harrington before, I was very curious about what to expect when I read The Dead and Buried; awesomely enough, I found a concise, enjoyable writing style, and an author who knows how to tell a good, solid story. Coupled with everyday characters who I was easily able to feel like I knew, a blush of romance, and a mystery I

enjoyed

, I have to say, The Dead and

Buried was thoroughly enjoyable!
Featuring a likeable narrator, I easily connected with, The Dead and Buried is a fast read, although the pacing never felt hurried to me. Kim Harrington developed her characters - major and minor - and really took time to let this ghost story find its stride. Just when I got lulled into the story, something spooky would happen, which kept me a little on edge, but since I enjoy being scared, that's just fine with me. I had a lot of

fun getting to know Jade and her family, as well as her peers at her new school.
I also enjoyed the romance. Although there were two guys who featured prominently in The Dead and Buried, it was clear fairly quickly who Jade was interested in. And I have to say, NO INSTALOVE. Finally! A book that, while hinting at an attraction between two characters, doesn't rush into them declaring their

undying

love on page 5. Instead, Harrington had Jade and her love interest team up to figure out the ha

unting

, which was a f

antastic way of building their relationship, while we got to know him as a character. Bravo!
The Dead and Buried kept me guessing until the end, partially because I didn't try to figure out what was going on, or who murdered Kayla, but also because Harrington wrote a good mystery! I would

recommend

this book to anyone who wants a quick, light

mystery.
Other books by this author:
Clarity
You're sure to love:
Amber Hou
se by Kelly Moore
Kim Harrington is the author of the Clarity series for teens and the Sleuth or Dare series for kids. She lives in Massachusetts with her husband and son. When not writing, she's most likely reading, watching one of her favorite TV shows, or fantasizing about her next vacation. Her first book, Clarity, received a starred review from Publisher's Weekly, was a 2012 ALA Quick Pick for Reluctant Readers, sold to nine countries, and was optioned for television by Warner Brothers.
Visit Kim at: her twitter | her website