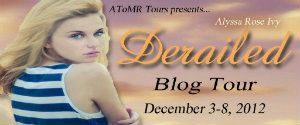 Derailed by Alyssa Rose Ivy
Published: September 23, 2012
Source: Copy from the author in exchange for an honest review
Rating: Squee-worthy
Add it/Purchase: Goodreads | B&N | Amazon
Connect with the author: Website | Twitter
When you're lost, sometimes the only place you can go is home.

Broken over the death of her fiancé, Molly leaves law school to return to her childhood home in North Carolina. Expecting to lay low until she can figure out what else to do with her life, she finds herself in the arms of her high school sweetheart, the boy who represents everything from the past she tried to leave behind.

Looking for an escape, she instead finds a way back to the girl she almost forgot existed and a future she never dreamed possible.
Derailed is one of those stories that just called to me - almost demanding that I read it. And as I settled in to do so, I at once felt at home in the small town of Clayton Falls, where most of th

is story takes place.
The characters fill the pages with their emotions, dreams, and issues - especially the main character, Molly. I felt a kinship with her right away (possibly a small portion because she shares my name!) Molly has been through a great deal of heart-ache, and watching her struggle to deal with that, and rise above her circum

stances really endeared me to her.
Author Alyssa Rose Ivy has created a heart-warming story with

Derailed.

Not only are the characters true-to-life, but so are their reactions and their actions. Everything feels genuine, from the dialogue, to the relationships, be it friendships or romances. My heart went out to Molly, and Ben. I could feel the tension and the memories between them, and I was definitely rooting for them. Their history made me want them to work as a couple, but also, afraid for them. At times they were sweet to one another, even though there were moments when I wanted to sha

ke them both.
Derailed is a page-turner; I read it eagerly, captivated by the story unfolding. I would call this a "New Adult" genre story for sure, as, while there isn't anything explicit to the sexual scenes, there are a few

scenes, and issues, I feel are more suited for mature readers.

Although I felt there was too much emphasis placed on the dialogue, and at times, wished for a bit more "showing," versus "telling," all in all, Alyssa's story is seriously cute and gave me the warm-and-fuzzies for sure - which I like! Molly and Ben are a fantastic couple, and I hope to read more about them, and about Clayton

Falls!