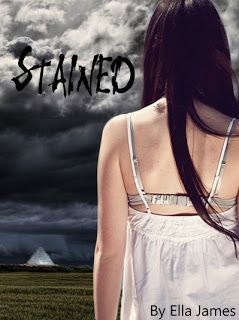 Stained
by Ella James
Published:
September 14, 2011
Source:
Copy from the author in exchange for an honest review
Rating:
Beam-worthy
___
After a fire destroys seventeen-year-old Julia's home and kills her foster parents, she chases the half-demon responsible across the country and back, determined to avenge her family and discover why a host of celestial baddies want her dead.
With Julia is enigmatic hottie - Cayne, who has his own score to settle with the half-demon, and who might be just as dangerous as the creature he and Julia hunt.
She'd known what his face looked like when he was mad and glad and everything in between, what he sounded like moving around the room, what it felt like to sit by him, and the way his voice sounded at every octave - except the one he used to whisper in her ear. he was like a beautiful painting she'd seen from every angle, except on the wall in her house. And viewed that way, it was almost another work entirely.
Stained was a wild ride, that I savored, because I didn't want Julia and Cayne's story to end. I fell hard for this unlikely couple - the girl who was more than she seemed, and the half-demon with a good heart. While the beginning was a bit shaky, by the time I finished this paranormal thriller, I had grown to like both of the main characters, and felt invested in their struggles and in their quest.
Author Ella James has a talent at telling an engrossing story that is layered, and definitely more than it seems. I enjoyed the way she worked in Julia's talents, Cayne's history, and the various angel-vs-demon mythology - all without making any of it feel tired, or like too much was going on. There was a real sense of danger, and the character treatment was such that I felt enough of a connection to these characters to care what happened to them next, and to want to know more about the greater dangers they faced.
Carried by two strong characters from very different lives, Stained is a breathless read. Despite a few issues I had with how fast the relationship between the mysterious, sexy Cayne, and bruised Julia developed, ultimately there was a depth of feeling between them that I could believe in, and enough of a enigma left as Stained wound down to make me want to read more, and know more: about Julia's healing, about Cayne's past, about who is hunting down people like Julia.
Other books by this author:
Stolen (Stained #2)
Here (Here #1)
You're sure to fall for:
Obsidian by Jennifer L. Armentrout
I'm a 20-something sci-fi nerd with a journalism degree and a serious York Peppermint Pattie addiction. I spend my days baby-wrangling and dog-chasing and my nights tapping on my laptop and hanging out with my writer/editor husband. A fun day for me involves lots of writing, running, and researching topped off with some quality Kindle time. My life's goal is to find an empty cottage in an enchanted forest, install a solar panel for my laptop, and move in - never to be seen again - except in sweatpants.
Visit her online at:

H

er

W

ebsite |

H

er

F

acebook