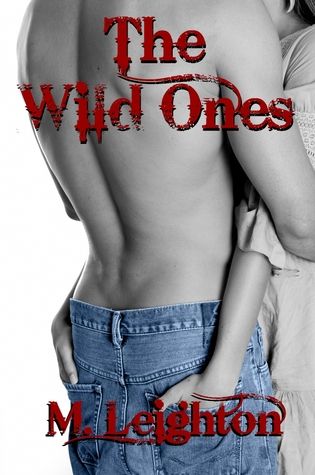 The Wild Ones by M. Leighton
Published: August 1, 2012
Rating: Squee-worthy
Source: E-book from the author for an honest review
Add it/Purchase: Goodreads | B&N | Amazon
Connect with the author: Twitter | Website
**MATURE CONTENT ADVISORY: May not be suitable for younger readers**

Passion as hot as midnight in the South and love as wild as the horses they tame. Camille "Cami" Hines is the darling daughter of the South's champion thoroughbred breeder, Jack Hines. She has a pedigree that rivals some of her father's best horses. Other than feeling a little suffocated at times, Cami thought she was pretty happy with her boyfriend, her life and her future.

But that was before she met Patrick Henley. "Trick" blurs the lines between what Cami wants and what is expected of her. He's considered the "help," which is forbidden fruit as far as her father is concerned, not to mention that Trick would be fired if he ever laid a hand on her. And Trick needs his job. Desperately. His family depends on him.

The heart wants what the heart wants, though, and Trick and Cami are drawn to each other despite the obstacles. At least the ones they know of. When Trick stumbles upon a note from his father, it triggers a series of revelations that could ruin what he and Cami have worked so hard to overcome. It turns out there's more to Trick's presence at the ranch than either of them knew, secrets that could tear them apart.
It's always interesting going into a book that has as much positive hype surrounding it as The Wild Ones does, because that voice in the back of my mind was wondering and whispering: "Will I love it as much as everyone else has?" I'm thrilled to say the answer is: YES! I adored so many aspects of this novel - from the familiar, Southern setting, to the horse ranch the main character's father owned and ran, to the independant, strong-willed characters who made me love them. By the time I finished M Leighton's novel, I needed a fan and a good cry, and much, much more of

Cami and Trick.
The Wild Ones is so many things: a coming-of-age story about Cami learning how to go after what she wants...and how to live her life fully, a swoon-worthy romance, and a story about two people making one another better. This story would have been awesome no matter what, but with two electric lead characters who crashed into one another, it became an amazingly heart-felt, steamy romance. Cami and Trick complimented one another even as they frustrated one another. They grew so much as chara

cters, and as a couple!
I also have to say, I really loved Leighton's writing style. Her seamless ability to blend two very different points of views endeared me to her immediately. Writing for males is difficult at times, especially when a story is being told by one male and one female - all too often writers aren't able to make the male's point of view stand out. Not so here! Trick was all male, and definitely an

alpha male at that. I could quote his lines for hours, but instead, I'll just say: READ THIS BOOK.
The bottom line: do yourself a favor and get a copy of The Wild Ones. Plan to do nothing but read once you do, but also plan to laugh, cry, scream, throw things, and fall in love with Cami, with Trick, and to learn for yourself that "som

etimes the wild ones are the best."
Want

to follow this tour?