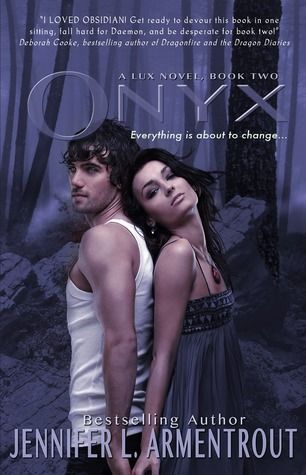 Onyx by Jennifer L Armentrout
Published: August 14, 2012 (Entangled Teen)
Source: Purchased from B&N
Rating: Squee-worthy
Add it/Purchase: Goodreads | Amazon | B&N
Connect with the author: Twitter | Website
___
Being connected to Daemon Black sucks… Thanks to his alien mojo, Daemon's determined to prove what he feels for me is more than a product of our bizarro connection. So I've sworn him off, even though he's running more hot than cold these days. But we've got bigger problems.

Something worse than the Arum has come to town… The Department of Defense are here. If they ever find out what Daemon can do and that we're linked, I'm a goner. So is he. And there's this new boy in school who's got a secret of his own. He knows what's happened to me and he can help, but to do so, I have to lie to Daemon and stay away from him. Like that's possible. Against all common sense, I'm falling for Daemon. Hard.

But then everything changes… I've seen someone who shouldn't be alive. And I have to tell Daemon, even though I know he's never going to stop searching until he gets the truth. What happened to his brother? Who betrayed him? And what does the DOD want from them—from me?

No one is who they seem. And not everyone will survive the lies…
Every time I finish a book by Jennifer L Armentrout, I'm speechless for one reason or another. With her

unparallelled

ability to create intimately identifiable characters, and sizzling love interest, not to mention heart-pounding storylines, I went into Onyx with high expectations, and finished this brilliant addition to her Lux series with sky-high hopes for the sequel. Spirited book blogger Katy and insufferable, swoon-worthy Daemon Black add layers of depth and emotion to this installment, which is made even more intense by the

mysteries

and

betrayals

swirling through the community.
Everything I thought I knew about these character and this series was turned on its head in Onyx, and in a good way. JLA added character growth to Katy, who became so much more than she was in Obsidian. Daemon surprised me so many times, with his affection and respect for Katy, with how he encouraged her to grow, with his need to protect her. I lost count of the number of times I swooned over him! And then there were several new characters who I'd think had one agenda, then realize really had an entirely different one. JLA kept me guessing, and I liked that!
I loved so much about Onyx: Daemon's trademark one-liners, all the unexpected humor, and especially the changing relationships. I wondered how long Katy could resist Daemon, because - I - couldn't resist him. And I have to say, JLA masterfully handled the various plot lines, weaving them seamlessly into one another. Not many authors could have a white-hot romance simmering to a burning point while the DOD circles, endangering all the characters we love - but JLA does it. And yet even admi

dst the peril, these characters retain what makes them all so lovable, and their voices still seem genuine.
I ran the gamut of emotions with Onyx: I laughed, so often. I cried. I screamed. I wanted to hit something, then hug everyone. I can't even begin to e

xpress my relief at some points, and my frustration at others.

JLA has penned a game-changer with Onyx: nothing will be the same for Katy or Daemon after this, and I for one, cannot wait to get my hands on Opal to see what comes next.
Book Trailer
Other books by this author:
Obsidian (Lux #1)
Half-Blood
(Covenant #1)
You're

sure to fall for:
Sweet Evil by Wendy Higgins