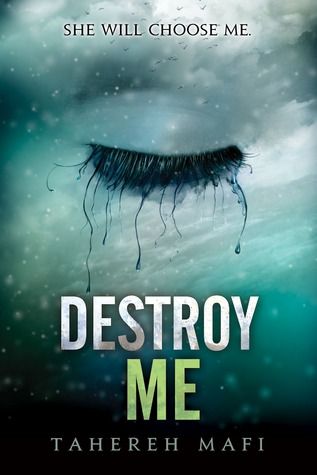 Destroy Me by Tahereh Mafi (Shatter Me 1.5)
Published: October 2, 2012 (Harper Teen)
Source: Bought from B&N online
Rating: Squee-worthy
Add it/Purchase: Goodreads | B&N | Amazon
Connect with the author: Twitter
Perfect for the fans of Shatter Me who are desperately awaiting the release of Unravel Me, this novella-length digital original will bridge the gap between these two novels from the perspective of the villain we all love to hate, Warner, the ruthless leader of Sector 45.

In Tahereh Mafi's Shatter Me, Juliette escaped from The Reestablishment by seducing Warner—and then putting a bullet in his shoulder. But as she'll learn in Destroy Me, Warner is not that easy to get rid of. . .

Back at the base and recovering from his near-fatal wound, Warner must do everything in his power to keep his soldiers in check and suppress any mention of a rebellion in the sector. Still as obsessed with Juliette as ever, his first priority is to find her, bring her back, and dispose of Adam and Kenji, the two traitors who helped her escape. But when Warner's father, The Supreme Commander of The Reestablishment, arrives to correct his son's mistakes, it's clear that he has much different plans for Juliette. Plans Warner simply cannot allow.

Set after Shatter Me and before its forthcoming sequel, Unravel Me, Destroy Me is a novella told from the perspective of Warner, the ruthless leader of Sector 45.
Truth: I love villains; the ones I really love aren't the "let-me-show-you-how-evil-I-am" Big Bads though, but rather the quietly hate-able ones who, even as they're plotting your demise, still show a sliver of humanity, making you want to redeem them. And that is exactly what happened when I read Shatter Me - I met Warner, and lost my heart to him. So when I heard about Unravel Me, I was all fluttery and excited, but worried: would a novella from Warner's point of view change my mind about him? And it did, but in the best way: I now firmly adore this broken man.
With Destroy Me, we see inside Warner's thoughts and motivations, and I have to say, so much about him became clear: why he makes the choices he makes, and why he is the way he is. A lot of fans of this series seemed to worry that Tahereh would try to make him too sympathetic, but I feel that she straddled the line between hinting that he can be redeemed, and still making me rage-y over his actions at times. To say that Warner is a complex guy is an understatement; Warner is layered, and definitely a swoon-worthy alpha male, but also very damaged, and misunderstood.
I am even more excited now for Unravel Me, to see what happens next to these amazing characters. Destroy Me gives us just enough of a peek into Warner's plans to make me nervous, yet also hopeful. I lost my heart to Warner, while aching to see more of Juliette and Adam. And while Adam is probably better for Juliette, I have to say, for the first time, I see the possibilities of Warner/Juliette, which breaks my heart in so many ways.
In short: pick up this book if you're, like me, anxiously awaiting Unravel Me. It's short, and it's NOT expensive, so you don't have to feel guilty about splurging. It's still told in Tahereh's magical writing style, and I promise you're going to want Destroy Me in your collection!