{ ++ } Miz B over at
Should Be Reading
hosts this weekly meme, where us book lovers get a chance to spotlight our currently-reading and basically...do a little teasing. : ) The rules are simple:
Grab your current read.
Open to a random page. (Full disclosure: I actually go hunting for a good teaser. heehee.)
Share two (2) "teaser" sentences from somewhere on that page. (Um. Sometimes I post more than 2 sentences. hee.)
BE CAREFUL NOT TO INCLUDE SPOILERS! (make sure that what you share doesn't give too much away! You don't want to ruin the book for others!)
Share the title & author, too, so that other participants can add the book to their to-reads if they like your teaser.
A shadow glided past me and I turned to see Derek at my shoulder. As the dining room door swung shut behind him, I caught a glimpse of books and a calculator spread across the table. He must have been there the whole time, doing independant work.




As he looked down at me, I expected some sarcastic comment about eavesdropping, but he only muttered, "Welcome to the madhouse," then brushed past me into the kitchen to swipe an extra snack.
Published: 07.01.08 (HarperTeen)
Pages: 390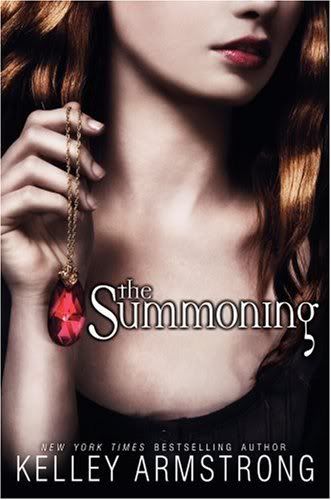 After years of frequent moves following her mother's death, Chloe Saunders's life is finally settling down. She is attending art school, pursuing her dreams of becoming a director, making friends, meeting boys. Her biggest concern is that she's not developing as fast as her friends are. But when puberty does hit, it brings more than hormone surges. Chloe starts seeing ghosts–everywhere, demanding her attention. After she suffers a breakdown, her devoted aunt Lauren gets her into a highly recommended group home.

At first, Lyle House seems a pretty okay place, except for Chloe's small problem of fearing she might be facing a lifetime of mental illness. But as she gradually gets to know the other kids at the home–charming Simon and his ominous, unsmiling brother Derek, obnoxious Tori, and Rae, who has a "thing" for fire–Chloe begins to realize that there is something that binds them all together, and it isn't your usual "problem kid" behaviour. And together they discover that Lyle House is not your usual group home either…