{ ++ } Miz B over at
Should Be Reading
hosts this weekly meme, where us book lovers get a chance to spotlight our currently-reading and basically...do a little teasing. : ) The rules are simple:
Grab your current read.
Open to a random page. (Full disclosure: I actually go hunting for a good teaser. heehee.)
Share two (2) "teaser" sentences from somewhere on that page. (Um. Sometimes I post more than 2 sentences. hee.)
BE CAREFUL NOT TO INCLUDE SPOILERS! (make sure that what you share doesn't give too much away! You don't want to ruin the book for others!)
Share the title & author, too, so that other participants can add the book to their to-reads if they like your teaser.
Whatever was happening between us, it was too much, too fast, and I worried I was going to get hurt. I'd never been hurt before, not like that. When I went out with guys, I liked it fun and casual. I had a good time when they were around, and when they left, I was okay with that. But if Rafe said he was leaving, I wouldn't be okay with that and it scared me. - page 197
The Gathering by Kelley Armstrong
Published: 04.12.2011(HarperCollins)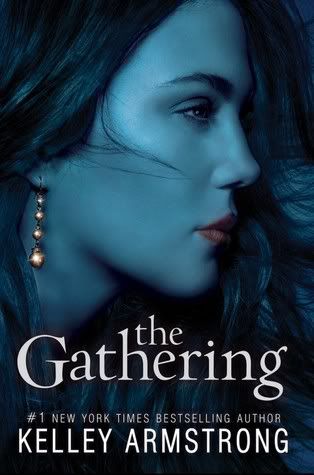 Sixteen-year-old Maya is just an ordinary teen in an ordinary town. Sure, she doesn't know much about her background - the only thing she really has to cling to is an odd paw-print birthmark on her hip - but she never really put much thought into who her parents were or how she ended up with her adopted parents in this tiny medical-research community on Vancouver Island.

Until now.

Strange things have been happening in this claustrophobic town - from the mountain lions that have been approaching Maya to her best friend's hidden talent for "feeling" out people and situations, to the sexy new bad boy who makes Maya feel . . . . different. Combine that with a few unexplained deaths and a mystery involving Maya's biological parents and it's easy to suspect that this town might have more than its share of skeletons in its closet.