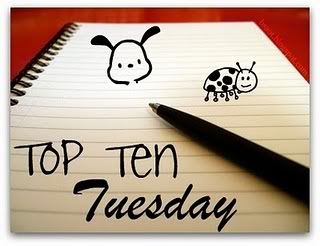 { ++ } Hosted by the girls over at
The Broke and the Bookish
, this meme features a different theme every week, and hey, it's Tuesday - we've got the rest of the week ahead of us. We all need a little fun, and who doesn't love the challenge of ranking their top 10
anything
...especially when it comes to books?! I know I do, hence why I thought it'd be fun to participate, and spice things up a little!
My Top 10 Books of 2011
(in no certain order because uh, that's impossible)
1. Cinder by Marissa Meyer:
my review
. Cinder is a fantastic and different retelling of Cinderella, a cool, funky, and heartfelt futuristic version. I absolutely adored the book and cannot wait for the sequel.
2. Hourglass by Myra McEntire:
my review
. Oh, Hourglass. What to say? One of the first "timeslip" (aka time travel) books I've read, and I am SO glad that I took a chance on reading it after
Cait
gave it an excellent review. I was captivated from the first pages, and I devoured Myra's debut novel. Every couple of days I get all fluttery excited about the upcoming sequel, Timepiece. Hourglass captured my attention and my heart with a strong, fierce lead female, excellent secondary characters, a fascinating plot, and a sizzling romance.
3. Saving June by Hannah Harrington:
my review
. This book was...emotional, hard to read, but SO worth it. I listened to a song called "Over You" by Miranda Lambert while I was reading it, and between that, and how huge a theme music was to the book, plus the amazing lead character and the depth of emotion in Saving June, I just fell so hard for this book.
4. Tempest by Julie Cross:
my review
. GO OUT AND BUY THIS BOOK. PRE-ORDER IT. STALK YOUR LOCAL BOOKSTORE. This is hands-down one of the absolute best books I've read not just in 2011 but...ever. I laughed out loud. I cried and cried. Tempest is one of those rare books you come across every now and again that months after you finish it, you're still thinking about the characters, jonesing for the sequel, and wondering what the next book holds.
5. Shatter Me by Tahereh Mafi:
my review
. I was lucky enough (read: I ran through the house squee'ing) to win an ARC of this from Tahereh herself on Twitter. The writing style was incredibly gorgeous and Juliette is a beautiful, strong heroine. To say I'm dying for the sequel is an understatement; Shatter Me has won a place in my heart forever. The plot is different, the characters are genuine and fascinating. Read it, y'all. Please.
6. Obsidian by Jennifer L Armentrout:
my review
. I just adore Jennifer and her ability to write female lead characters that I GET. First Alex, now Katy, Obsidian boasts a down-to-earth, sympathetic, and awesome lead female, a hot boy-next-door and a fun and twisty plot. If you haven't read it, you need to.
7. The Near Witch by Victoria Schwab:
my review
. One of the spookiest books I've ever read, The Near Witch was unique. It was part folk-lore, part fantasy. I really enjoyed it, and am definitely looking forward to Victoria's next novel. I follow her on Twitter and she is just a joy.
8. The Vespertine by Saundra Mitchell:
my review
. This book features one of the most beautiful, heart-wrenching romances I believe I've ever come across. Like Shatter Me, Saundra's writing style is so beautiful and ethereal. I definitely recommend The Vespertine. It's a period book and some people I know haven't enjoyed it, but I did. I'm on pins and needles awaiting the sequel, The Springsweet!
9. Delirium by Lauren Oliver:
my review
. I'm not sure what to say about Delirium, other than that it was a VERY awesome read...full of danger, romance, and so emotional. I highly, highly, recommend it to anyone.
10. Treasure Me by Christine Nolfi:
my review
. Christine sent me my very first review request, and her debut novel, Treasure Me, was awesome: fun, sarcastic, flirty, mysterious, emotional. I loved everything about Treasure Me, as well as its author, encouraging, awesome Christine.
(And two more I CAN'T leave out!)
11. Take This Regret by Amy Lichtenhan:
my review
. This book had me in tears so many times ...sometimes that was bad, sometimes it was good. There was SO much beautiful character growth in Amy's novel that I am still a little swoon-y over Take This Regret. I look forward to reading anything and everything else that Amy publishes.
12. The Wise Man's Fear by Patrick Rothfuss:
my review
. (My first review here...*cringes*) But...it's Patrick Rothfuss. I've never met him, but I adore him. I read his blog religiously. I wait anxiously for any tidbits about his books.