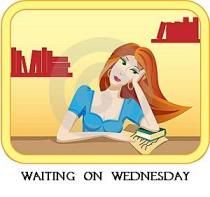 { ++ } This weekly event/feature is graciously hosted by Jill of
Breaking the Spine
. You know that feeling you get when you're browsing upcoming books on Goodreads or Amazon and one strikes your fancy? Maybe you squee. Maybe you giggle to yourself. Maybe you bounce in your seat. We all get excited (I do a combination of all three of the previous choices...) about new books, be it a favorite author you're familiar with, or someone whose work you'll be reading for the first time. Jill's meme gives us the chance to spotlight what we are anxiously awaiting this week.
I'm Waiting On...
Emma and her friend Chloe are spending vacation in Florida. When Emma (literally) runs into a hot guy named Galen on the beach, little does she know he's a prince of the Syrena. Galen and Emma both feel something strange – is it attraction? – and Galen suspects that Emma might well be the girl he's heard of – a human who can communicate with fish.

What follows is a deadly scene with a shark in which Galen witnesses Emma's gifts. He must know more about her, and follows her back to New Jersey, and high school, to find out for sure if she's the key to saving his kingdom. Soon, Emma can't deny her feelings for him, but can't explain them, either – and both she and Galen must learn more about where she comes from and what her powers are before they can trust one another and their feelings.
Of Poseidon by Anna Banks
Expected publication:05.22.2012
Why this book:
The cover is absolutely stunning! I am a sucker for the name Galen. And I am kinda digging the mythology plots these days! Plus? Anna is totally a sweetheart and fun to follow
on Twitter
!
{ ++ } What's
YOUR
WoW this week? :)